ORDER-UP: Long-time Crew Helped Build Production Kitchen
By John Cokos, New Jersey Department of Corrections
Published: 02/10/2020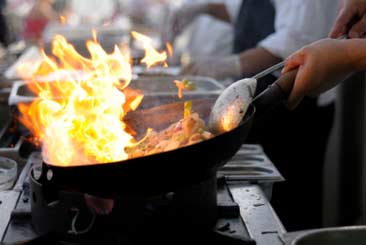 Adam Truett walks into his workspace and brings coffee to the crew with whom he has worked for more than 20 years. Together, amid thousands of square feet of freezer space, prep areas and industrial ovens, Truett and his crew have helped transform the New Jersey Department of Corrections (NJDOC) food service operation into what it is today.

In 1997, the Regional Production Kitchen (RPK), located on the grounds of South Woods State Prison in Bridgeton, began as a food service operation that serviced three prison facilities in the southern region of the state.

"After a few years, we realized we could handle more and began looking for a greater challenge," said Assistant Supervisor of Regional Food Service Operations James Crackovich. "We recognized there was a need for a change and that we could not only increase the efficiency and reach of the operation, but also design menu items with more than just cost in mind."

Within a brief period, the RPK went from serving three facilities, to increasing its scope and distribution to all NJDOC facilities throughout the state.

With an increase in its operational efficiency, the RPK now serves roughly 17,000 inmates across 13 correctional facilities.

"Everything – including policies, menu design, purchasing and production – is centralized from here," said Truett, who serves as Regional Food Service Operation Supervisor. "We've created a standard menu to cycle over several weeks at each facility as well as a universal order form to simplify the ordering process."

Even the way the ingredients are gathered for recipes is organized. Before a menu item is prepared and cooked, all the ingredients are placed on a pallet for easy access. Each pallet contains only the ingredients for one menu item.

During a walk-through of the RPK, which operates around the clock on weekdays, one might see 180 gallons of chili simmering in a giant 200 gallon Groen stainless steel kettle, 1,000 pounds of meatloaf or sausage browning in a Hobart industrial walk-in oven or two-gallon bags of macaroni and cheese in a tumble chiller being cooled from 180 degrees to 40 degrees Fahrenheit in an hour.

"To put the size of the operation into perspective, we can look at how we order," said Assistant Supervisor of Regional Food Service Operations Christopher Connelly. "We order many items, such as vegetables and poultry by the trailer-load, which average about 40,000 pounds per load. We go through 66,000 pounds of chicken, 33,000 pounds of onions and 10,000 gallons of diced tomatoes per month."

Initially, the RPK crew utilized a test kitchen to help develop menu items.

"We learned early on that you can't just make a small pot of something and simply multiply the ingredients," Crackovich said. "It just doesn't work. You have to carefully calculate the ingredients to the size you are going to need."

In addition to producing the quantity of food required to feed thousands of people a day, menu items produced at the RPK need to be healthy.

"Everything needs to meet certain standards," Crackovich said. "We need to maintain certain levels of protein, sodium content and other nutrients to support a heart-healthy diet."

As with any food service operation, safety is of extreme importance. Truett's team members have food safety certifications from the National Restaurant Association, and the RPK is subject to random inspections from the New Jersey Department of Health. Safety concerns, like maintaining appropriate cooking and chilling temperatures and avoiding cross contamination, are always considered.

"Each time we finish cooking one food item, the kettles get cleaned to avoid cross contamination," Truett said. "Food in freezers is stored for a very specific time. Keeping up with equipment maintenance is also a major priority and crucial in ensuring safe food handling practices."

Since 1997, the RPK has developed into a massive, nearly autonomous food service operation that supplies food for all of NJDOC's facilities.

"Nobody has an operation like this one," Crackovich, who holds a degree in culinary arts, added. "I love the challenge of doing this, and I'm grateful we have a crew that works well together and that can pull it off."

John Cokos, a former Navy Mass Communication Specialist, began working for the New Jersey Department of Corrections' Office of Public Information in May 2018.
---